My mom is Swedish, so I get to be a dual citizen and speak Swedish and have family in Sweden and eat a lot of Swedish treats. It's a good life.
I was recently in Sweden visiting my sister Kristine, a badass opera singer, and got to go the city library. What a glorious place! It's in a cool round orange building: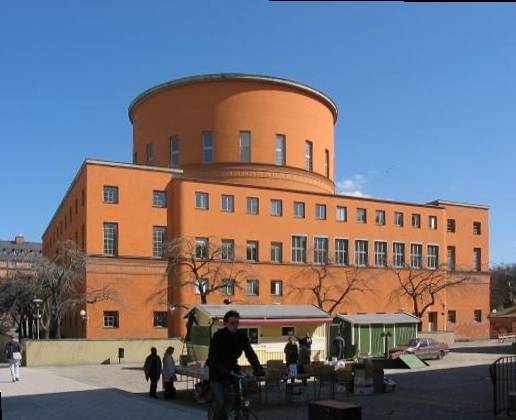 built in 1928, the first library in Sweden with open stacks.
I wandered over the children's room first, which was through a cool hallway with two separate entrances. There were cute paintings on the wall and lots of book suggestions and program flyers.
Programs included a teen book club, a storytime, events for spring break (or Easter break as they call it), a book drama club, hero stortyimes, and storytime led by a tween(!). So great. Book recommendations - on these special little postits with "My book tips" in the corner, included Hunger Games, Twilight, Narnia, and the Book Thief, and some great Swedish books.
Most of the picture books were stored in great little wooden rolling carts at kids height, with all the books facing out. Books were alphabetized by author. Most of the books had an interesting library binding, and they did not use the Dewey Decimal system to organize the books - nonfiction had subjects too, and the fiction was organized by age and author.
And check out the incredible story time room. It was circular with this crazy mural on it.
And then moving on the adult section of the library - the rotunda! So beautiful. Felt like a classic old citadel of knowledge in there. I was surprised by the grumpiness of the elderly lady librarians in there - definitely the shushing kind who looked annoyed anytime someone asked for help. Very disappointing. Pleased to see the Children's Librarians were super friendly - though they were mostly sitting behind the desk and not roving around (luckily the desk was short and approachable!)
A very cool little hallway above the rotunda had an incredible poetry installation, with hip wallpaper and little curated shelves with poetry books on them.
The library also had a great cafe (with the proper Swedish sweets!)
I wandered to the library sciences section and found a book called Bibliotek 2.0 - or Library 2.0 - that discussed all the participatory, technology-forward aspects librarianship could take today. Sweden seemed like it was doing a lot of that, at least in the kids section, with user-friendly shelving and space organization, and lots of interactive programming. However, the grumpy librarians were a disappointment. When I went to check out their website, it said it was down for 3 days because they are updating it. Interesting!